Welcome to the official website for the United States Bankruptcy Court for the Western District of Pennsylvania. Offices are located in Pittsburgh, Erie, and Johnstown.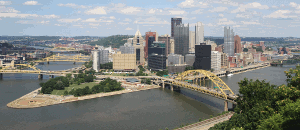 Website Maintenance
The following Court applications will be unavailable for use from Saturday, October 1, at 3:00 PM through Sunday, October 2, at 3:00 PM for routine maintenance.
Bankruptcy Mediator Conference Report/Survey form upload
Bankruptcy Mediator Profile Editor
Bankruptcy Mediator application and annual application renewal submissions
Bankruptcy Mediator Search
EASI Sale Item submission and search
PAWB Opinion Search
Employment/Career Opportunity Application submissions
Judge Agresti's and Judge Taddonio's hearing calendars
If you are an Approved Debtor Education Provider, Click Here to upload Financial Management Certificates
As of Oct. 17, 2016 please access this link from the Financial Management Certificate Upload link on the Programs & Services button of the red navigation bar.
Court Locations
U.S. Bankruptcy Court
5414 U.S. Steel Tower
600 Grant Street
Pittsburgh, PA 15219
(412)644-2700
Hours: 9:00am - 4:30pm
U.S. Bankruptcy Court
U.S. Courthouse
Room B160
17 South Park Row
Erie, PA 16501
(814)464-9740
Hours: 9:00am - 4:30pm
U.S. Bankruptcy Court
Penn Traffic Building
Johnstown, PA 15901
(814)533-4246
Other Resources