Welcome to the official website for the United States Bankruptcy Court for the Western District of Pennsylvania. Offices are located in Pittsburgh, Erie, and Johnstown.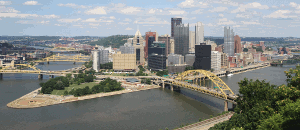 National Form Changes
On December 1, 2015, most national Official Bankruptcy Forms will be replaced with substantially revised, reformatted, and renumbered versions. Unless the Court has its own Local Form, use of the revised Official Forms will be mandatory beginning on December 1, 2015.
If you are an Approved Debtor Education Provider, Click
Here
to upload Financial Management Certificates
Court Locations
U.S. Bankruptcy Court
5414 U.S. Steel Tower
600 Grant Street
Pittsburgh, PA 15219
(412)644-2700
FAX: (412)644-6512
Hours: 9:00am - 4:30pm
U.S. Bankruptcy Court
U.S. Courthouse
Room B160
17 South Park Row
Erie, PA 16501
(814)464-9740
Hours: 9:00am - 4:30pm
U.S. Bankruptcy Court
Penn Traffic Building
Johnstown, PA 15901
(814)533-4246
Other Resources